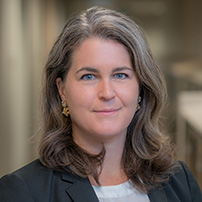 Today, the Utah State Bar announced that Parsons Behle & Latimer (Parsons) attorney Juliette P. White has been chosen as the recipient of the Utah State Bar's 2021 Professionalism Award. The Professionalism Award is given by the Board of Bar Commissioners to an attorney whose deportment in the practice of law represents the highest standards of fairness, integrity and civility. Christy Abad of the Utah State Bar says White was selected by the Utah State Bar Board of Commissioners as the ideal recipient for this award.
White says she had no idea the award was coming but is honored to be the recipient. "These principles are incredibly important to me, and I hope to all attorneys, not just because they make the practice of law more livable, but because they are, in my view, essential to ensuring that the law is just and equitable," she says.
In addition to being a skilled national litigation trial lawyer, White serves as a director and vice president at Parsons and is a senior member of the firm's intellectual property practice team. Julianne P. Blanch, Parsons' litigation practice group chair says, ""Those of us in the firm who work with Juliette on cases every day know how truly professional she is, and this award means that lawyers outside the firm recognize her as a standard-bearer for how to treat other counsel, clients and the judiciary. We are proud of Juliette's dedication to civility in the practice of law."
White has donated years of her career to protecting the rights of disabled Utahns, seniors, women impacted by domestic abuse, low income and disadvantaged individuals in the community. She is well known for her role as lead counsel in "Christensen v. Miner" a lawsuit brought against the State of Utah by the Disability Law Center and several disabled Utahans to gain access to needed services while living more independent lives. The outcome of this matter has profoundly improved the lives of all disabled Utahns. Today, White continues to serve as pro bono counsel for the Disability Law Center.
Cory D. Sinclair Parsons' president says, "I'm so happy for my friend and colleague. Juliette is a very deserving recipient of this award and for this recognition. I have had the pleasure of working with her for many years, and she always conducts herself with integrity and the upmost professionalism. During her time as a member of the Board of Directors, Juliette has led on many key issues and has played an integral role in our firm's success."
Media contact:
Dana Robinson
Marketing and Communications Director
Parsons Behle & Latimer
Phone: 801.536.6647 Mobile: 801.541.4625